cod life philosophies | paintings by chris dennis
Saturday, April 14, 2018 @ 7:00 pm

-

Sunday, May 6, 2018 @ 7:00 pm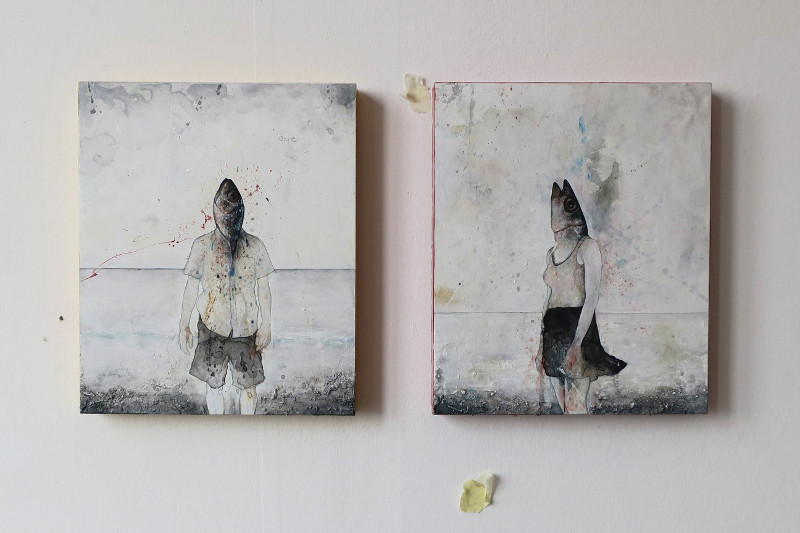 TAKT BERLIN is happy to present:
cod life philosophies | paintings by chris dennis
"When I said I paint the same things again and again because I think about the same things again and again, did you think I was joking?"
Chris Dennis paints his images within a visual world he began to construct in 1996, when he produced a series of paintings based on a collection of short stories by Bret Easton Ellis called The Informers. His figures, with animal heads, are not some other-worldly creatures from Science fiction. They are masks or disguises. The likeness may be hidden but the choice of animal tells its own truth. From this manufactured fugue state, Chris explores ideas about biography /autobiography, authorship and the unreliable source.
Chris is a TAKT alumnus from 2010. He was born and grew up in England and studied natural history illustration at Bournemouth Arts University. This classical training is still evident in his current therianthropic work. After completing his BA (Hons) at the University of Wolverhampton he relocated to the United States, and in 2000 earned his MFA from the University of Art in San Francisco. He left the United States in 2010 and spent 3 years in both Auckland, NZ and Zürich, Switzerland. He returned to Berlin at the end of 2016 and now calls it his home. He has exhibited and is collected across the United States, Europe and New Zealand.
chrisdennisart.com
OPENING:
Friday, 13.04.2018 19 – 22h
EXHIBITION:
14.04. – 06.05.2018
OPEN HOURS:
Sunday 16 – 19h and by appointment

TAPIR GALLERY | TAKT BERLIN | Neue Hochstraße 8 | 13347 Berlin-Mitte