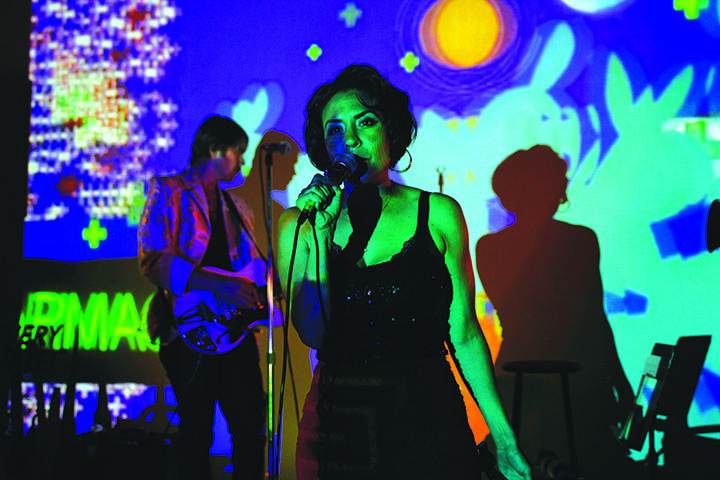 Takt Academy is happy to present
Julia Barbosa Landois
Artist Statement:
Julia Barbosa Landois uses pop cultural tropes and dark humor to address thorny subjects such as religion, gender, and sexuality. Singing is an important part of her live and recorded performances. Popular song structures are rearranged and recontextualized to unexpectedly fit narratives of experiences like pregnancy or sex work on the USA/Mexico border. Accompanying objects are found or fabricated to provoke a seductive discomfort: lean in, recoil, repeat. She plays with the disjunctions that occur in language translation and uses the cinematic conventions of onscreen text to engage charged content. Code-switching and voice-switching then complicate the relationships between Spanish and English, masculine and feminine, victim and victimizer, abject and exalted.
Bio:
Julia Barbosa Landois, a current resident at Künstlerhaus Bethanien, is a performance, installation and video artist based in the United States. Landois holds a Master of Fine Arts from the University of Pennsylvania (2007) and a Bachelor of Fine Arts from the University of Texas at San Antonio (2003). Her work has been featured in galleries, museums and performance festivals throughout the United States, as well as Latin America and Europe. Awards include grants from Blue Star Contemporary, Artpace, and the Artist Foundation of San Antonio, as well as residencies at the Santa Fe Art Institute (USA) and Lademoen Kunstnerverksteder (Norway).
Selected Exhibitions and Festivals:
On the Ground Floor (Los Angeles), Sala Diaz (San Antonio), Museum of Contemporary Art Santa Barbara (CA), Artpace (San Antonio), Rapid Pulse International Performance Art Festival (Chicago), Texas Biennial (Centraltrak, Dallas), Fusebox Festival (Austin), Vox Populi (Philadelphia), Border Art Biennial (El Paso Museum of Art, USA & Centro Cultural Paseo del Norte, Ciudad Juarez, Mexico), Galleri Babel (Trondheim, Norway), Mexic-Arte Museum (Austin), Centro Estatal de las Artes del Instituto del Cultura de Baja California (Mexicali, Mexico)

Takt Academy at KunstraumTapir | Weserstr.11 | 10247 Berlin-F'hain