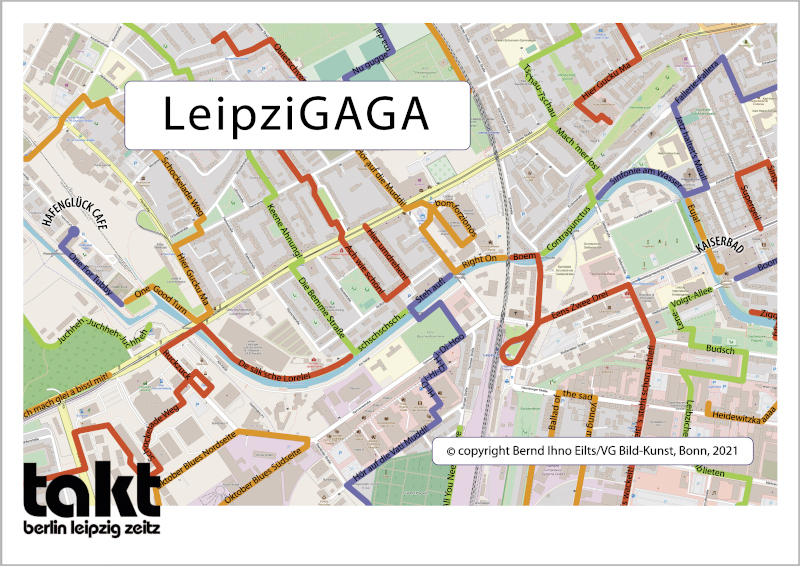 LeipziGAGA is an improvised collective sound art performance for an undefined number of participants, created by Bernd Ihno Eilts.
This is the invitation for you to participate with your free will, energy, mind & heart to create unlimited joy for yourself and others! You are invited and allowed with no limitations to behave completely free in your own sonic way. Start a conversation with a leaf, a cloud and anything around you wish to. Measure the beauty of Leipzig and its environment and start sonically reflecting with what you see, feel, smell, hear and connect. All you need is open yourself and start using your vocal sounds in a free way with all its wonderful capacities.
Yes, we know you can't sing. You might sing only hidden when nobody is around. That is completely okay. You should know, from now on you don't need any regulated perfection anymore. From now on you are invited to sound play- and joyful.
We also know you have a wonderful speakingvoice, you are able to whisper, speak silently, you are able to laugh, even hard, even harder. And you might be able to shout! Please accept my invitation and let's meet and scream together for a while. At least as long as you wish to. Just give it your try, leave any limitations you could think about behind and act in the most wonderful way you were never even thinking of. LeipziGAGA is because of your participation. Only you count here! If you feel unsure, a little shy, please don't worry. Am around and will be able and with pleasure assist you on your journey of experiencing unlimited LeipziGAGA joy.
LeipziGAGA ist eine improvisierte kollektive Klangkunst-Performance für eine unbestimmte Teilnehmerzahl, von Bernd Ihno Eilts.
Sie sind eingeladen, mit ihrem freien Willen, Ihrer Energie, Verstand und Herzen teilzunehmen und dürfen sich neingeschränkt auf Ihre eigene klangliche Art und Weise verhalten und damit Ihnen selbst und anderen große Freude bereiten. BeginnenSie ein Gespräch mit einem Blatt, einer Wolke und allem, was Sie möchten. Messen Sie die Schönheit von Leipzig und Umgebung und beginnen Sie klanglich zu reflektieren mit dem, was Sie sehen, fühlen, riechen, hören und mit was auch immer Sie sich verbinden. Alles, was Sie brauchen, ist, sich zu öffnen und Ihre Stimmklänge mit all ihren wunderbaren Fähigkeiten frei einzusetzen.
Natürlich wissen wir, dass Sie nicht singen können. Sie singen vielleicht nur unter der Dusche und heimlich, wenn niemand in der Nähe ist. Das ist völlig in Ordnung. Sie sollten wissen, daß ab jetzt keine Perfektion mehr gefragt ist. Ab sofort sind Sie eingeladen, spielerisch und fröhlich zu klingen. Werden Sie ein Klangsänger / eine Klangsängerin.
Wir wissen auch, dass Sie eine wundervolle Sprechstimme haben; Sie können flüstern, leise sprechen, Sie können lachen, sogar heftig, noch heftiger. Und vielleicht sogar schreien! Bitte akzeptieren Sie meine Einladung und lassen sich ganz einfach ein auf eine neue und grenzenlose Erfahrung. Und das, solange Sie möchten. Probieren Sie es einfach aus, lassen Sie alle Einschränkungen hinter sich und handeln Sie auf eine neue und unbekannte Weise. Falls Sie sich trauen. LeipziGAGA besteht nur durch Ihre Teilnahme, Sie sind es, die LeipziGAGA entstehen lässt. Wenn Sie sich unsicher oder schüchtern fühlen, machen Sie sich bitte keine Sorgen. Ich bin hier und begleite Sie gerne auf Ihrem Weg zur grenzenlosen LeipziGAGA-Freude.
Bernd Ihno Eilts