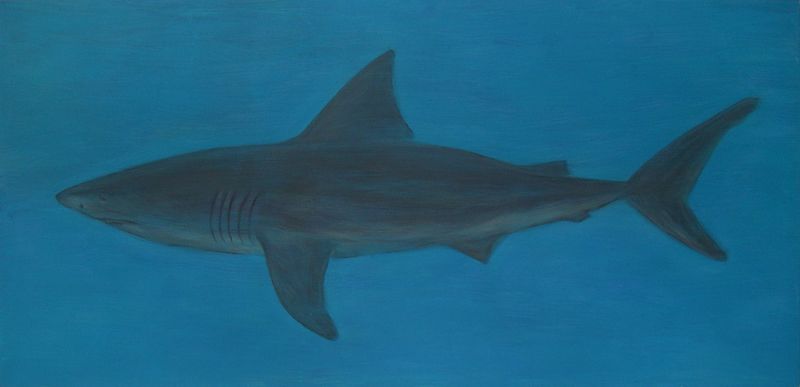 Takt presents
Rosaana Velasco | ENIGMA
OPENING
27.01.2017
EXHIBITION
28.01. – 12.02.2017
OPEN HOURS
FR/SU 4-7pm

Kunstraum Tapir | Weserstraße 11 | 10247 Berlin-Friedrivhshain
ENIGMA
Rosaana Velasco expresses the enigma of her universe with elements that cause wonder when the mysteries involved in our divine origin are contemplated: Life and death as a cycle of evolution, the jaguar as a mythical creature within the ancient Mexican cultures, the shark as an enigmatic creature of the oceans.
These images evoke human transcendence placing us in a global consciousness of our responsibility with nature, with aesthetics and with the legacy for the evolution of humanity.
Velasco's paintings invite to contemplate and reflect the mystical contribution we are to this universe.
Rosaana Velasco received the Bachelor of Visual Arts at the ENAP Mexico National Autonomous University and graduated from the Düsseldorf Academy of Arts with the title of Master-Student by Professor Daniel Buren. Her work has been shown in more than 100 exhibitions like the Bellevue Saal in Wiesbaden, Gustav-Siegle-Haus, Kunstbezirk in Stuttgart. She made the public work "Kilometre Zero" in 2012 in Toluca, Mexico. She has won among others, the first price at the Upcoming Artist Award in Frankfurt am Main in 2014. She has installed since 2014 the Altar of the Mexican Day of Death at the Rautenstrauch-Joest-Museum, Cultures of the World in Cologne.
http://www.youtube.com/watch?v=_pfPcmngEGI
http://rosaanavelasco.blogspot.de/
https://www.youtube.com/watch?v=DotRZPhOeY0