Maria Kubysh | Paintings from 2020
January 27th – February 13th
This work is a study of expressive possibilities of a limited vocabulary of symbols, conventions, and techniques. How does the meaning arise from a constellation of abstract marks on a painterly surface? Or, rather, how meaning cannot fail to materialize, even in the most abstract execution. How is the author's intent "encoded" in a painting? How this intent bends and shifts under the decoding performed by the viewer?
I am interested in how an abstract painting germinates interpretations without dictating them. It clears visual space for imagination to wander and the mind to invent a narrative around the image. I like my paintings to bait the viewer with a possibility of easy grasp but evade concrete interpretations. The glyphs invite a reading but lead down several equally valid paths.
The style is minimal but strives to evoke a lush experience in the viewers. I like to experiment with the possibilities of a raw canvas. Loosely hung, creased, wavy, it takes a form beyond a traditional painting's rectangle. The paint marks bend the fabric. Shadowy spaces invite a sculptural quality to the works. Each marking takes on an exact function, like an agent in a complex ecosystem within the visual whole.
mariakubysh.com
Open for a view from the window front and by appointment (015738493646)
Please wear a FFP2 mask during your visit, thank you!
supported by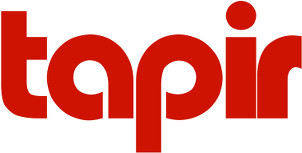 Kunstraum TAPIR
Kopenhagener Straße 31A
10437 Berlin