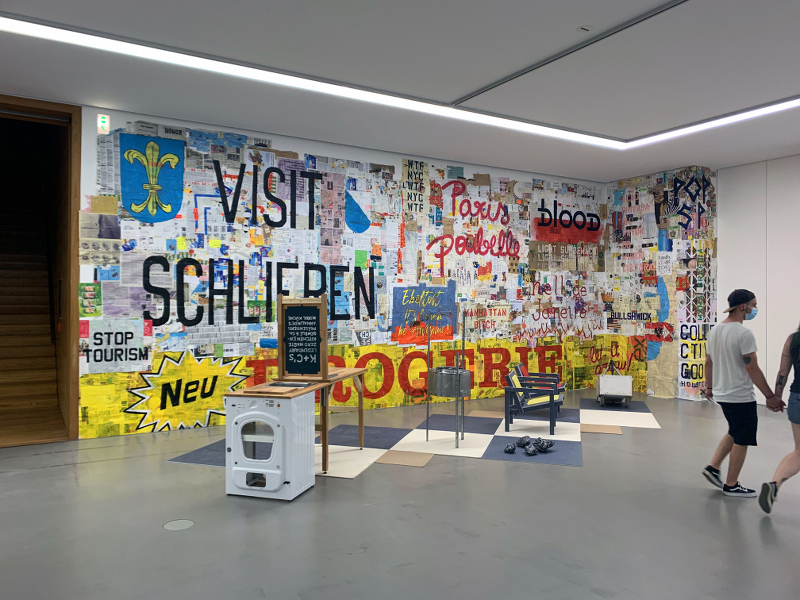 K+C's Legendary Zero Waste Kitchen Ensemble & Co., 2020

Kadija de Paula & Chico Togni

Installation view, dimensions variable: mobile Küche built with/for Annalinde Leipzig; BBQ; wagon and other objects made with recycled and found materials. In the background: 4m x 10m panel of posters made with paper, adhesive and packaging of products consumed during the four-years itinerant research project HOW TO LIVE WITH LESS.

Zero Waste exhibition, curated by Hannah Beck-Mannagetta and Lena Fliessbach

MdbK – Museum der bildenden Künste, Leipzig – Germany
Together since 2016, the Brazilian/Canadian duo, Chico Togni & Kadija de Paula, create situations and happenings that take place in structures and functional objects they build with found materials, to question the value of resources, labour and social practices.
Interested in degrowth as a political and economic movement that can help us survive the catastrophic Anthropocene, they research consumption habits and disposal processes so as to challenge how we produce, reproduce, accumulate and waste an abundant surplus of resources.
Their works propose other ways to use, exchange and share what we have, by blurring the limits of art and life through a continuous individual and institutional critique of what is understood, practiced, encouraged, and reproduced as the norm.
kadijadepaula.hotglue.me
chicotogni.hotglue.me
issuu.com/kadijadepaula/docs/k_c-ports-issu